Data Driven Business Week London October 29-30, 2014
Three conferences – one exhibition – book as a package or separately. Concentrated knowledge for your organisation:
Conversion Conference, eMetrics Summit and Preditictive Analytics World – Three conferences with one common goal: concentrated knowledge for your organisation! Web analysts, e-commerce experts and marketing managers will learn at this year's Data Driven Business Week London from 29-30th October, how companies turn their data graves into a money-spinner and how they can optimise their online marketing.
Leading international experts such as Tim Ash, Jim Sterne and Dean Abbott will share their knowledge live onsite. Numerous organisations such as PayPal UK, Schuh Limited, Secret Escapes, John Lewis, Avios, Adobe, NSA, Booking.com, as well as many small companies and service providers will be there to reveal their experiences to the audience. The show producer Rising Media expects around 500 participants for over 50 sessions at this event.
---
Conversion Conference – Conversion is King!
Now in it's fifth edition, Conversion Conference London was the first conference series worldwide focusing exclusively on the optimisation of conversion rates. After the SEOs have done their job, what techniques can you use to convert your visitors? Find out from leading experts. The conference will be opened by leading US conversion expert Tim Ash, CEO at SiteTuners.
At the Conversion Conference, world-renowned conversion consultants and in-house optimisers will talk about:
---

Metrics Summit is the conference for digital analytics and online marketing optimisation. At eMetrics, experts from different backgrounds such as e-commerce, B2B, finance and insurances, media and publishing, start-ups, representatives from leading agencies and vendors gather in one place to share their insights and find out about future trends.
Programme chair Peter O'Neill has many exciting sessions to offer:
Newest analysis methods
Case studies
Innovative products
Strategies und tactics for

Big Data
Attribution
Marketing ROI
Digital Analytics
Mobile Analytics
Cross Device Analytics
Data Intelligence
und many more.
---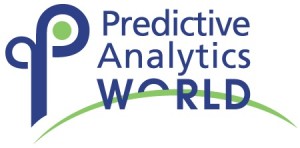 Predictive Analytics World is the business event for experts, managers and vendors in predictive analytics. The conference offers trend-setting keynotes, relevant case studies as well as practical sessions.
Learn from well-known experts:
Which predictive processes and tools really work
How to optimise marketing actions via forecasts
How to increase competitiveness, growth, customer satisfaction and the ability to act with intelligent forecasts
What Big Data can do for your company
What makes a successful Data Scientist